You're looking to get the word out about your small business. You have your website live and running. You have a presence on Facebook, Instagram, Google My Business and every social media channel that exists. You're reaching out to your customers and clients with a weekly newsletter. But something seems to be missing in your communications.
Is Content A Conundrum?
Reaching your customers isn't a problem for you. You have a reach and are hitting them across multiple platforms. But if you're not sharing valuable, relevant, and genuine content from your brand, you may be losing an incredible opportunity to become a recognized and valuable voice in your business niche. Don't miss any opportunity to draw new advocates to your brand while affirming loyal brand followers they have made the right choice in backing you.
It's Time To Get Blogging!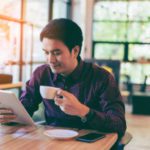 With more than 600 million blogs being published and 31.7 million active bloggers, it may seem there are already enough blogs to go around! But your business has a story to tell and a unique view to share so  consistently producing solid content based on your brand's messaging has value. Businesses that regularly post blogs receive twice as much email traffic as those who don't. And with 57% of marketers saying they've gained customers specifically through blogging, can you really afford to pass up this high-performing content generator and customer-driver?
If you are ready to get your unique voice heard and have another proven source for brand content, let our team at BC & Associates Marketing support you get your messaging creatively and effectively conveyed via a weekly blog. Not only will you be able to share your expertise in a personal way, you'll build a wealth of content to carry through all of your communication channels.
Source: https://optinmonster.com/blogging-statistics/