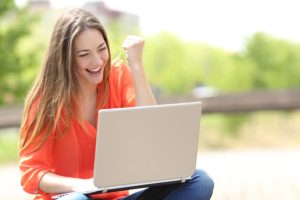 Marketing messages are everywhere. On the television, radio, newspapers, our devices like cell phones, tablets and more! There are companies who are focusing on social media and killing it than ever before. These aren't just the big companies like Oreo, Coca Cola etc., they are mom and pop shops who love what they do and it truly shines in their social media.
There are three areas that are key to social media success.
1. Create great content that is human, relatable and authentic.
When potential clients search online for a product or service, they're attracted to friendly photos.  These photos can reveal the personality of your office. Are you pranksters, do you have your own knitting club, do you all dress alike? Share what makes you, your staff and organization you! And that truly is your people. If you have a friendly, family-like atmosphere then share that so your clients will feel connected to you even before they visit your place of business.
2. Be consistent in your use of social media tools, topics in your posts and writing/graphical style.
Business owners and their teams need to consistently follow a social media protocol that creates and celebrates the trusted relationships they've formed with their clients. That means knowing which tools to use that target your specific market and when they are the most active on each too. Sharing posts from you and other like-minded organizations that your clients will find value in (and engage with). Keep your writing and graphic style similar so people can come to expect your content and brand. That doesn't mean each team member must be the exact same but the voice each team member has should follow your standards in regards to tone, topic, and content.
3. Be creative and have fun with your product/service and team!
Posting to social media on a regular basis will increase your online presence. When working with customers that are happy with your product or service, take photos, share their stories. You can even make social signs that are clever and relate to your specific industry. Show the behind the scenes of how your business works and sneak peaks, of new products/inventory! People love to be in the know! One of my favorite things to share is outtakes and bloopers! This really shows off your hard work and sense of humor. Everyone wants to know they are doing business with people, not just a company! Show off your company and your personality and see the results!
Social media can be a revolutionary marketing tool but it can also be very time intensive. Choose one social media tool/platform to start with. Master it and move on to the next one. Don't try to be everything to everyone. I have seen so many businesses fail and feel completely overwhelmed.