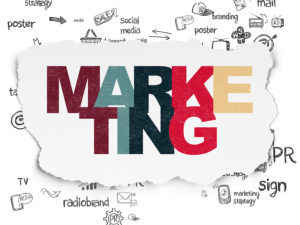 There are many different definitions of marketing but I really like this one.
Marketing is the activity, set of institutions, and processes for creating, communicating, delivering, and exchanging offerings that have value for customers, clients, partners, and society at large. — The Process of Know, Like, Trust
Marketing is diverse with opportunities with all different types of businesses.
B2B – Business to Business marketing focuses on business clients
Business-to-business or B2B marketing involves products or services that are sold to other businesses or organizations. Marketing services are provided to both the public (for example mortgages, legal advice, and leisure) and to businesses (IT, tax consultancy, audit and accounting, recruitment, training provision).
B2C – Business to Consumer marketing focuses directly on consumers
Business-to-consumer marketing (B2C) relates to people who buy products and use services for their own personal or domestic consumption.
There are many types of marketing. And most successful companies use several of these tactics integrated together.
Marketing Strategy
Marketing should always start with a Marketing Strategy. This process starts with the setting of goals and objectives that will support the overall aims of the business. Next, a company needs to decide on a strategy that will allow these objectives to be achieved. The strategy may involve research into product or service development, how the product or service will reach the market (channels) and how the customers will find out about it (communication/message). It will also attempt to define a unique positioning for the customers they serve, the product they sell or the business type to differentiate it from its competitors.
Marketing Research
Market research includes information about customers, products and services that helps marketers make informed decisions about service and product development. This includes communicating with customers via survey's and more. Researchers use both qualitative methods and quantitative methods to draw conclusions and point business strategies in the right direction. Market research helps to spot new opportunities, identify issues and measure performance of current marketing campaigns and customer service.
Marketing Communications
Marketing communications focuses on getting the right message, at the right time, across with the appropriate promotional channel. Writing, designing advertisements, leaflets and posters, and producing broadcast advertising for cinema, radio and TV. The work also includes Public Relations which garners positive press coverage for services and products (see more below).
Digital Marketing: Online marketing is using the internet to generate responses from the relevant target audience. This could involve elements of: email marketing (Newsletters), SEO (search engine optimization), PPC (pay per click), online advertising, affiliate marketing, text messaging, website landing pages and blogging.
Social Media: Social media marketing engages with the target audience using social media channels like Facebook, Twitter, Google+, Pinterest, Instagram, LinkedIn and many others.
Brand Management
A brand for a business is an idea or an image of a product or a service. Branding is the marketing of this idea or image so that more and more people recognize it and become aware of the brand in hopes of buying and becoming loyal to that brand.
Branding involves in planning the marketing strategy for specific brands or products and putting it into practice. Brand mangers work closely with production, sales and finance to ensure the product or service performs to target. They monitor marketing trends and customer feedback to ensure the brand meets with customer expectations. They may write briefs for the advertising or PR agencies that will produce promotional campaigns.
Direct Marketing
Direct marketing involves marketing products or services directly to individuals or companies through direct mail or email. At the heart of direct marketing is targeting, personalization of messages and measurability, a lot of which is driven by insights gained from databases of information. E-mail marketing within direct marketing is becoming an important tool. This includes copywriting letters and brochures, data analysis, customer profiling and segmentation.
Advertising
Advertising includes all paid, public, non-personal announcement of a persuasive message by an identified business or sponsor; the non-personal presentation or promotion by a firm of its products to its existing and potential customers. This includes TV, Radio, Print, PPC and more.
Public Relations
Public relations maintains, protects and enhances a company's reputation by managing media coverage about a company, its products or its services and developing communication strategies for the different groups the organization is in contact with. This may involve writing press releases, arranging corporate entertainment/events or sponsoring sports or charitable activities in the local community.