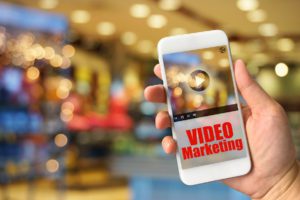 Companies are finding that video content is the most effective way to share news, entertainment, advertisements — even recipes. Using just your smartphone, you too can create videos that will build your business's online presence more than any other type of content.
Social Media Marketing Is Going to Video!
As we watch the world's social media habits evolve, one trend stands out across all platforms: people are watching more video than ever before. And not just watching — people are clicking, engaging and purchasing because of video content! In fact, a recent study found that 64 percent of consumers say they are more likely to buy a product after watching a video about it.
In every age group, time spent watching TV is dropping while time spent watching online video is rising. As this trend continues, sharing video content on social media will only become a better way to reach your patients and potential patients. Do you have a strategy to capitalize on the unique ways video can build relationships and grow your business? Here are five reasons you should make social video content a top priority in 2017:
1. Video Content Affects Purchasing Decisions
Analysts report that consumers presented with video marketing accompanying a product or service pitch are 80 percent more likely to convert as opposed to with just text and images. For many businesses, video content offers an incredible opportunity to familiarize potential customers with your store before they ever visit. Showcasing your team culture and customer experience through video can be the beginning of a lifelong relationship.
2. Facebook Favors Video
Currently, Facebook is the premier social media platform for marketing. It's the best place to start growing your business' social media presence, maintain connections with existing customers, and reach the people most likely to become new customers. However, Facebook's content algorithm can make it difficult to get your posts seen — even by people who follow your business page. Native video uploads on Facebook have 10 times the reach of a shared YouTube link, and when paired with a small advertising boost, they can do wonders for expanding your fan base and audience.
3. Video Can Make Anything Interesting
We often hear from business owners just starting on social media "What am I supposed to post about? People think my business is boring!" With good video content, this doesn't have to be the case! Even a video about the correct way to brush your teeth can be fun and interesting, whereas reading a few paragraphs about it may not hold someone's attention. No matter the subject, video content is a powerful way to tell stories, inspire people and create emotional reactions — all excellent ways to obtain and keep top-of-mind awareness.
4. It's Never Been Easier
Video production used to require a whole team and weeks of work — not anymore! Everything you need to make a great video is on your smartphone. Take a moment and explore the video capabilities your phone has and available editing software, like iMovie and Adobe Premiere Clip. Even if they're not professional-grade productions, regularly posting short video clips from your business will help you attract new customers and boost retention. And at zero cost, it's hard to beat that ROI.
5. Video Drives Engagement
With so much social media content being posted every day, standing out is difficult. Video marketing content is compelling and highly shareable — studies report videos get up to 1200 percent more shares than text and images combined. When customers share your social media content, they become advocates for your business, introducing you to family and friends that trust their recommendations.
Video is not going away and it has the potential to become a powerful marketing tool for your business. Don't let this fantastic window of opportunity pass you by!