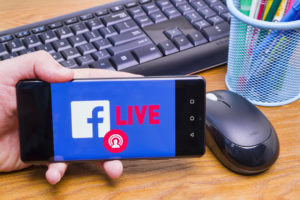 Facebook Live for small business owners has been crucial during the CoVid-19 pandemic. Many of our clients have had to close their business doors because they are considered nonessential services. However, there is still a way to continue doing business and also to connect to them while you wait for the State of Emergency to end. Facebook Live can help you!
What is Facebook Live?
Facebook Live is a feature of the Facebook social network that uses the camera on a computer or mobile device to broadcast real-time video to Facebook. Live broadcasters can decide who on Facebook can see their video and use this content to engage their audience during the moments and events that are important to them. Go Live on Facebook to broadcast a conversation, performance, Q&A, or virtual event. You can go Live on a Facebook Page, in a Group or an Event, and your live videos will also appear in people's News Feed. You can also go live on Youtube, LinkedIn, etc. But we are going to focus on Facebook today.
Why Use Facebook Live For Your Small Business?
Once a Facebook Live video is created it will reside on your page or profile for viewers who missed the live event to view. Videos are eligible to show up in an individual's news feed during the live event, as well as after the event has ended. Yet, the chances of seeing a video while it's live are now higher since Facebook has updated their ranking algorithm to show more live videos that are streaming in real-time.
By now, you have likely heard how effective video marketing is, but did you know Facebook Live videos receive 3X higher engagement than a video that is no longer live? Facebook Live videos also receive 5X more than standard photo posts, according to Adweek.
When To Use Facebook Live For Your Small Business.
Whether you're trying to raise brand awareness, get more leads, or increase interactions with your current customers, Facebook Live is a tool you should be using. Below are three ways you should be using Facebook Live in your marketing campaigns:
Keeps and creates a human connection with your fans and followers. It's essentially like meeting your customers in person since the event is happening "face to face" and in real-time. It allows you to have a conversation with your current and potential customers in their homes, cars, at their office, anywhere they are.
Helps you make announcements for new products, location-specific information, or industry-related news, answer questions customers may have, show customers an event you are attending since they can't be there with you, or reassure folks about business changes.
Gives a peek behind the curtain at your business. Facebook Live is the ideal opportunity to show off the unique personalities and values behind your company, whether it be strolling around the office and showing off your space, interviewing employees, or sharing a sneak peek into a company outing or event. Sharing your culture with your audience has so many long-term benefits whether it be for recruiting new hires, or getting new followers interested in your genuine brand.
Tools You Need For Facebook Live.
You don't need many tools to get started on Facebook Live.
Mobile phone, Tablet, or Desktop that has Facebook Pages App downloaded.
Tripod if you are going to be the focus and not the product. (I highly recommend to let viewers see you!) They want to connect with you, not just your product.
Good lighting. I recommend this tabletop mini ring light and tripod set from Amazon. It is super popular and has a ton of great reviews! And it is under $50. They have larger stand-up ones as well.
Facebook Live Streaming Services to add more effects etc. A few of our clients use StreamYard and like it. It allows you to show your screen, has screen banners, and more effects. And it is pretty easy to use.
Many clients are also using the program www.commentsold.com to help sell on Facebook Live.
A can-do attitude and persistence. You can do it!
How to Go Facebook Live On A Mobile Device.
Broadcast to your Page, group, profile, or event from anywhere in the world using the
Facebook app
(available on iOS and Android).
Navigate to the Page, group, or event you want to live stream from.
Find the Live button at the bottom of the post composer.
Add a description to your video. Your description and video thumbnail are by far the most important pieces of your video. Without compelling copy to entice your viewers, your live video isn't going to get much if any traction. When writing your copy, ensure it's direct, actionable, and informative, with a hint of mystery to spark curiosity in your viewers. You can also tag friends, check in to a location, and add a feeling or activity.
Click Start Live Video.
Tap Finish when you want to end your broadcast.
How to Go Facebook Live On A Desktop.
Starting a Facebook Live session from your computer couldn't be easier.
Open your favorite internet browser, and visit Facebook.com.
Find your business page.
Click in the status text box, then click on Live Video.
Enter a brief but compelling description, select your preferred privacy setting, then click Next.
When prompted, click Allow to give Facebook permission to access your webcam and microphone.
Finally, click on Go Live
Find more information on Live Streaming Events
here
.
20 Facebook Live Tips For Small Business Owners.
Promote your Live before you do it. About a week before setting up an event on Facebook. Share a couple of social posts and then 5-15 minutes before post a Live in 5 etc post. Give people notice you will be Live. And if you are doing a regular series, people will begin to anticipate your Lives each week, etc.
Pick the time you do your Facebook Live (based on your Facebook insights) for when your fans are online the most to get the best opportunity for engagement.
Know what you are going to talk about. A new product, An event, An update on Business. Don't just ramble on.
Dress casually – dress like you would for work. Be authentic. Don't overdo the makeup etc. This may look contrived.
Make sure you have good lighting(either from a ring light that is featured above or sit in front of a window for great natural light).
Choose your background wisely, make sure its neat, and shows your business in a positive way. If you are doing a reoccurring series maybe have a desk set up you always use.
Limit distractions by turning off phones etc. Make sure your space is quiet.
Film horizontally or vertically. It's up to you. Horizontal is more like viewing on a TV but lots of mobile users like the vertical view since that is how their phone is most of the time. These work better for Instagram.
Think of this like having coffee with a friend or a customer – it's ok to share stories and get a little personal.
Smile, don't be so stressed or worried that you don't come off as friendly and warm. I personally encourage drinking a cup of coffee before you go Live. lol In other words, you're not trying to market yourself obnoxiously or sell a product. You're trying to build relationships that lead to longer-lasting impressions. When you're ready to broadcast, make sure you're relaxed, smiling, and feeling confident.
Mistakes happen, embrace them. People love to see real people being themselves. It's ok to stutter or pause etc. It makes you human and your customers will be able to relate to you! Everyone has been there.
When you start your Live, ask folks to say hi in the comments and say hi back to them by name! Be sure to use people's names. People love to hear their name Live. Interact as if they were in your store. Ask them how they are doing? How are they passing the time shut-in due to the Coronavirus? You want comments and engagement so that your Live is shown to even more people. Plus this will relax you and make it feel more like a two-way conversation vs. a prepared speech. This also allows some time for people to join your Live. It usually takes 3-5 minutes for people to see the notification in their streams. Be patient here. Don't just jump right into your important stuff. You can say what date it is, the weather where you are, what you have been working on. That you miss your customers etc. Ask them to like and share the post. Perhaps even run a live contest asking them to like, share, and comment on the post to be entered into a free giveaway raffle.
The live comments and reactions are part of what makes the experience so engaging to customers. If you can, have someone like our team monitor your Live and help with answering comments, etc. It can be hard to run the Live and reply to each comment on Live. If you can't then be sure to go in after the Live and reply to each comment.
You might naturally assume it's a good idea to introduce yourself and any other speakers at the beginning of your video broadcast. After all, just like a blog post, your initial aim is to convince people to stick around. However, Facebook Live allows visitors to join the stream at any moment. So as more people come in, reflect on your introduction, and let your audience know what's happening. For instance, you may want to use lines such as "Hey, if you're just joining us, welcome to our broadcast. We're currently talking about [topic] and we've just covered [previous topic]."
Before you end your Live, give a strong Call To Action (CTA) What do you want your followers to do next? Go to the website and look around or look at a specific item. Visit the store (when open)? Be sure to have a clear action at the end of your Live. You may also want to let folks know when your next Facebook Live will be and the topic if you know it. This will also keep you accountable to do more Lives!
Be sure to upload a custom thumbnail for your Live – sometimes the one that is chosen has your face in the funniest positions. 😉
Pin your post to the top of your timeline/newsfeed so that more people see the video. Or if it is a great video make it a featured video on your Facebook page.
You can add captions to your video so that people who don't want to stream with sound can read your words. This is great for us moms who are putting our kids to bed and want something to do that is silent. lol
Measure! Be sure to look at your insights and see how your videos are performing.
Save your best videos and add them to your Youtube Channel as well. Or in your Blog posts. You can even type out the video to help with SEO. Repurpose your content.
Facebook Live Practice Makes Perfect.
You can always create an outline of what you want to talk about and practice before you go Live. You may even want to create a few practice videos on your page. Before ripping the bandaid off and going Live, you should test things out by creating a practice video restricted to your eyes only. You can do this by going to your own Facebook profile, and selecting "Only Me" before recording. I would even encourage you to share on your first few Facebook Lives that you are new at this and to help cheer you on.
Facebook Live has become a fantastic tool for Small Business owners to stay engaged and make money during the Coronavirus pandemic. Don't miss this opportunity. The more you do Facebook Lives the better you will get. I joke with my clients that I will give them two weeks to complain about doing video but after they see results and revenue they know that video is a great way to connect with their customers. It's hard to argue with the potential of live streaming in a world where customers constantly crave stronger, more human connections with their favorite brands. Since its launch in 2016, Facebook Live has seen its daily watch time grow by more than 400%.
Sources:
Facebook
Adweek
Wordstream