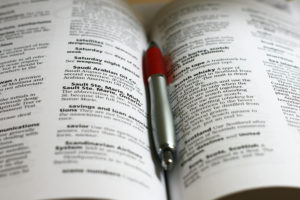 It is that time of year again: back-to-school. And even though school days are a distant memory for most of us, as professional writers—whether newbies or seasoned—having the right resources at our fingertips makes all the difference for advancing our careers.
What's Your Style?
If you majored in journalism or English, then you had one of three style books nearly memorized: The Chicago Manual of Style, The MLA Style Manual, or The Associated Press Stylebook and Briefing on Media Law. While all three offer great information, the kind of writing you'll be doing tends to dictate which one you will use. Here's breakdown of each:
The Chicago Manual of Style
First published over 100 years ago, this manual was one of the first editorial style guides in the United States, and it is largely responsible for establishing research methodology standardization.
It is used widely by academic and some trade publishers, as well as editors and authors who are required by those publishers to follow it. Currently in its Sixteenth Edition (published in 2010) and available in print and online formats.
The MLA Style Manual
This style guide is the youngest of the three mentioned in this article and sees itself as the go-to standard for graduate students, scholars, and professional writers.
As mentioned in the opening paragraph, if you ever were an English major or had to write a major research paper, chances are you were told to use MLA style under penalty of death. OK. Maybe your teacher or professor didn't utter those exact words, but you know he or she meant business when they said points would be take off for incorrect citations. However, grab a copy of the MLA Style Manual while you can as no new editions will be published. Instead the eighth edition of the MLA Handbook will become the authoritative source for MLA style, including updates for the ever-evolving digital era. Available in print format.
The Associated Press Stylebook and Briefing on Media Law
On the first day of JRN 200: Newswriting and Reporting I, the professor walked in, introduced himself and said words I'll never forget: 'In this class I'm god, and this is your bible,' as he dramatically threw The AP Stylebook on the nearest desk for emphasis.
Created by journalists working for the Associated Press, this style guide is used largely by journalists as the 'bible' for grammar, punctuation, and principles of reporting, including many definitions and rules for usage as well as styles for capitalization, abbreviation, spelling, and numerals. In addition to journalists and writers in broadcasting and magazine publishing, marketing departments and public relations firms tend to use the AP Stylebook for their communications. Unlike the other two style guides, the AP Stylebook is updated annually in June, and while you don't have to buy a new version every year, I would recommend not letting the version you use be more than two years behind the current version. Available in print and online (subscription) formats.
How Much Do I Charge?
We all want to get paid what we're worth, but how much is that exactly? Enter the Writer's Market. The 2016 version is the 95th annual edition of this trusted source to help writers navigate the waters of getting published, knowing their rights, and how to get paid. This book is invaluable, especially to freelance writers because it offers tips from others who have been in their shoes. The section on what to charge spans 16 pages and in broken down into categories such as, 'Advertising & Public Relations,' 'Business,' 'Computer, Internet & Technical,' and more. Within each section are detailed subcategories with pricing suggestions for per hour or per project with a high, low, or average salary ranking. So you're probably wondering where all these numbers are coming from, right? Nearly 20 organizations are surveyed to determine what the going rate for specific jobs are. These include the American Society of Journalists & Authors (ASJA), the National Writers Union (NWU), and the Writer's Guild of America (East and West chapters) to name a few. This book will also help you understand the ins and outs of a query letter, understanding contracts, as well as terminology when it comes to your rights. The bulk of the book breaks down magazine and book publishers by subject, giving you detailed insight into what to submit, how to submit, and what you can expect to get paid. It really is a great resource and I highly recommend having it in your library. Available in print and online (subscription) formats.
What's Another Word For…?
A dictionary/thesaurus may seem like an obvious choice, but I'm talking about not only having a quality set, but also a physical one as well. Even though online dictionary and thesaurus sites provide quick and easy access, I still like to have physical copies on hand to verify what I'm looking up is accurate, or in some cases, provide me with an alternative word or definition that the online sites didn't have. Your client is paying good money for your services, so make sure you do your due diligence.
Depending on your preference, Merriam-Webster and Oxford are two trusted names. I recommend going to your local bookstore to get a sense of which dictionary/thesaurus combo works best for you.  
Remember, have the most current version of these resources on hand so you can deliver the best and most accurate copy to your client. And don't forget because you're using these books for work and/or as part of professional development that they can be deducted from income tax.