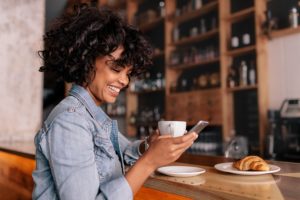 Mass communications are just that – communication that speaks to the masses. With so many options for reaching your customer, consider getting personal and adding text messaging, or SMS Marketing (standard messaging service), to your collection of marketing tools.
Up Close And Personal
In our current environment of even the smallest mom and pop shop having the capability of a fully-stocked marketing plan, one way to stand out from the masses is to focus on not only the value of your product or service but also the experience you provide your consumer. By getting personal with your customer via text messaging, you elevate a business/consumer transaction to an experience.
If you're looking for a new way to reach your consumer base, consider these steps when researching a text messaging service.
Getting Started
The first rule of text messaging is you must have customers opt-in to your campaign.  By promoting your messaging campaign via the standard keyword/shortcode format, you allow those interested to actively choose to be a part of your campaign.
A standard message for a company looking to send weekly sales and events to customers could look something like this:
Get in on our weekly sales and events! Text WOWWEEKLY to 56363 to be in the know!
By using the keyword/shortcode format, you allow your customers to opt into your campaign. Then you can send them text messages about special events and upcoming deals. Along with having consumers opt-in, you must also provide an opt-out option on future communications.
Best Uses for SMS Marketing
Reminders for upcoming events and scheduled appointments for services you offer. It's a direct and personal way to not only promote sales but also provide support to your customers.
Alert customers to upcoming deals exclusive to subscribers.
Provide loyalty reward coupons for subscribers.
Poll participants for future business initiatives, new products they'd like you to offer or just fun polls on their favorite color of your top-selling widget.
Contest and sweepstakes are a fun way to get customers to participate in text messaging.
Don't Over Text
As with any marketing medium, you don't want to abuse the tool. We recommend sending no more than 2-4 texts a month. Save this for your most important messages.
Basics
If you're ready to take the plunge, find an SMS Marketing company to implement your text messaging plan. They will help provide a package that provides messaging, list tracking, opt-in and opt-out rates and adhere to all existing guidelines and regulations. Generally, you'll pay a monthly fee that covers the cost of renting keywords and fees to send text messages. Or reach out to us at Beverly Cornell Consulting and we can help facilitate getting your SMS Marketing program off to a personal and targeted start.
With response rates from SMS coming in at 209% higher than from phone calls, Facebook, or email, investing in SMS marketing is a worthwhile way to reach your customer base and drive sales in a personal, targeted way.
source:
https://www.mobilexco.com/blog/18-stats-to-help-you-plan-your-mobile-marketing-strategy-in-2018