There have been intense discussions recently related to the responsibility and benefit of social media and its role in the greater media world. With all of its pros and cons, there is an element of connection and personalization that social media allows when we are experiencing a situation where we want to reach out to others. Being able to mark that you are safe in an emergency on Facebook or posting in-the-moment play-by-plays of a stressful situation via Twitter or just supporting others by lending a virtual ear can be a great way to make us all feel a little closer and keep us in the know.
Be online and be part of your community
Sometimes we forget how having the immediacy of social media outlets at our fingertips can help us relate to each other on a personal level. It's a good lesson to keep in mind as a small business owner – that being a part of your community, either brick-and-mortar or in the virtual world, is not only good for business but helps build connections in your community and makes your experience as a business owner genuine.
Connecting with your customers shows you care!
When you know, care about and are involved in your community, you are an asset to others and a part of making your community vibrant and thriving. By connecting with your customers and neighbors via social media, by responding to comments and taking your local audience into consideration, you earn a level of loyalty and familiarity that not only benefits you but also your community. Working together with like-minded businesses with your local Chamber of Commerce and sharing initiatives, you can create efficiencies and be part of a great team representing your local identity.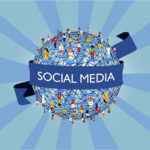 Giving, just feels good!
As we see communities banding together when rough weather and concerning circumstances hit, we can all play a role. Whether it's by helping to communicate information, banding together with other local businesses to provide resources that may be needed or just to say we're here and going through this with you, being connected in your neighborhood is what it's all about. When you are responsible and there for your fellow businesses and community members as a trusted source, you earn respect and appreciation and, most importantly, feel the positivity of giving back and being part of a larger whole.