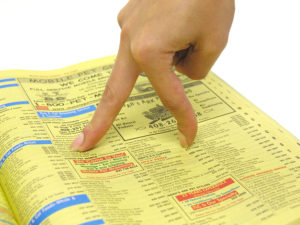 One of the most difficult marketing decisions a small retail business must make is whether to continue with printed Yellow Page ads in their marketing plan and budget.
My answer is usually a resounding No! I could list about 50 reasons for cancelling this tactic, but I'll just give four for the sake of time:
The majority of consumers in our country won't even crack the yellow pages book open – this book usually ends up in the trash and so does your money.
The costs of year-long commitment yellow page ads are an utter RIP-OFF and would be much better spent on a content-driven web presence which can be much more targeted and considerably cheaper.
The return on investment (ROI) stinks on yellow page ads, as you need a lot more clients to just break even on your marketing spend.
We are, for all intents and purposes, a global internet based economy. The idea of companies simply marketing in the yellow pages towards one or two towns/cities is going the way of the dodo bird.
The idea of "set it and forget it" marketing is really no longer viable.
Before the advent of the internet, the Yellow Pages were really the only reliable resource for retail businesses seeking a hyper targeted and local audience.  After word-of-mouth referrals, consumers relied heavily on the Yellow Pages for services in a wide range of industries. And it took very little work for the business owner: You placed the ad, it ran for a year and you waited for the phone to ring.
This just isn't the case for today's internet savvy consumers. Research confirms that consumers report using the internet first (at least 80% of the time) when they need a new product or service, and printed Yellow Pages only second or third And even if the consumer does reach for the printed Yellow Pages, your businesses ad still has to stand out (based on size, graphics and color,) which increases the advertising expense of being in the yellow book. The convenience of "set it and forget it" is now trumped by the more labor intensive but productive search marketing and social media options.
How To Measure Marketing Success?
Advertising in the Yellow Pages, on or offline, is not a branding exercise. It is purely an exercise in lead generation. So, it is not hard to understand what your own ROI is for this marketing initiative, or at the very least where your break-even point is for your Yellow Pages campaign:
| | |
| --- | --- |
| Cost of the campaign | $2,000 |
| Value of one new customer | $100 |
| Number of customers gained to break even | 20 |
| Number of leads needed to gain one new customer | 10 |
| Number of leads needed to break even | 200 |
| Number of leads needed to achieve 100% ROI | 400 |
In this case, if a Yellow Page contract is $2,000 for the year, you need to generate 200 real leads to break even. That is more than almost a call a day from your Yellow Page ad, in this example. Compare this to other marketing options you have, and calculate their relative break-evens.
What Should Your Business Do?
Six ways to test & measure if the Yellow Pages still have value for your business:
Create a working system to track the sources of all of your business leads.
Include an exclusive offer only for yellow page ad respondents, with a code for them to use when calling.
Include a dedicated phone number to make tracking even easier.
If you have a website, create a special landing page solely for the ad (just as you would for any ad you run in any medium and then track the traffic to the page and conversion.
Review your competitors' ads. Are they even in the yellow pages? What types of ads are they running? Which competitors have dropped out in the most recent issue? If you know them, ask them why.
Create a nice ad. For most people, 65% of the time spent looking at an ad is used to examine the image or photo, with the remaining 35% spent reading the text (should be limited).
Conclusion
People (especially older demographics) do still reach for the printed Yellow Pages when they need a local business in a hurry. For instance, plumbers should think hard before they ditch their local phone books. Locksmiths should also track their incoming leads closely before deciding to stop their ads. There are lots of examples of businesses that service folks with urgent needs who may benefit from staying in the books.
But, if your phone isn't ringing or your dedicated landing page is not seeing traffic from your Yellow Page placements, stop investing in it, even if the yellow pages representative is a close personal friend and part of the Chamber of Commerce. You don't run a charity, and your business needs come first! Results matter!
If you need help with ways to build your search engine optimization and google ranking so you get found on the internet, please contact us at info@bcassociatesmarketing.com or 971-BEVERLY to help build a strategy and implementation plan!