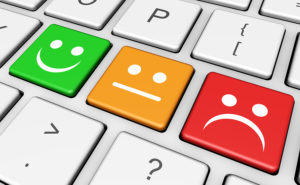 We have tons of experience working with clients across a variety of markets. This experience has given us an insight into best practices when dealing with customer feedback, in particular, the sometimes difficult and sensitive issue of handling negative feedback. Getting your responses
just righ
t can really change unhappy customers into raving fans! Give the wrong response, and that person is not likely to purchase from you again. In addition, they may use the power of social media to negatively influence the opinion of many potential customers. Effecting your business down the road.
Reviews and feedback are critical for small businesses:
People are seeking social proof that they are making a sound purchasing decision. And reading your reviews and feedback allows them to hear from others how awesome you are. This makes them feel better about buying from you than hearing from YOU how awesome you are. Reviews are becoming key for businesses in today's online market. Here are a few statics on how important reviews and feedback are to the buying process.
90 percent of consumers read online reviews before visiting a business.
88 percent of consumers trust online reviews as much as personal recommendations.
Consumers are likely to spend 31 percent more on a business with "excellent" reviews.
72 percent say that positive reviews make them trust a business more.
92 percent of consumers say they will use a local business if it has at least a four-star rating.
72 percent of consumers will take action only after reading a positive review.
Source:  http://www.invespcro.com/blog/the-importance-of-online-customer-reviews-infographic/
How you and your business choose to respond to your reviews and feedback is critical. You must remember that your reply is not only going to be read by the person that you are responding to, but also by potential customers researching your brand and business. You are being represented here, and the public image that you choose to portray may well be the first impression received. The ramifications of how you address the feedback is actually far more impactful than having received the negative review in the first place. Most folks don't expect a brand to have perfect five stars all across the board. In fact, they may even consider that very contrived. They like to see the negative reviews and how you respond. It gives them comfort that you and your company actually care.
How to respond to negative reviews:
In successful business communication, it is vital to learn how to respond positively to negative feedback. Take it as a learning process. After all, any type of business feedback can help you improve the success of your business, and even better; become a platform for better customer relations. Consumers are savvy enough to understand that mistakes, miscommunications and administrative errors will inevitably occur from time to time. In fact, a business that has a few negative reviews that have been dealt with in a professional manner, may actually create a more trustworthy online presence than one that does not appear to have any negative feedback. One of the biggest misconceptions companies have about online and social media is that any and all negative reviews and comments should be completely ignored. The idea seems to be that if you ignore the negative response from customers it 'goes away'. A recent survey found that 68% of customers who left a negative review, and who got a response, felt a positive outcome had been achieved: 33% turned around and posted a positive review and 34% deleted the original negative review. Of these customers who saw their negative interaction transformed to positive through feedback interaction, 18% became loyal customers.
Three ways to ensure your customer feels that they have been heard:
1. Thank the customer for taking the time to provide feedback.
2. Provide your understanding of the problem that has occurred, and whether you can accommodate a 'solution' to their grievance.
3. Ask them a further question about their experience to prove that you listen and to garner additional details to help get to the core of the issue.
How to respond to positive reviews:
User generated content is an important part of any search engine optimization strategy and obtaining reviews and feedback from consumers is a simple way into this arena. Search engines like to see this type of content but there is a lot more to this than meets the eye. Everyone 'gets' the concept of responding to negative feedback with the intention of presenting the company's version of events or their solution and or the reaction to the criticism. However, you need to consider the impact and context of only replying to negatives. Dialogue is generally much more interesting than monologue whether you are a person or a search engine. So, if your only dialogue (i.e. where you've posted a reply) is where the feedback is negative… Guess what happens? Google will place greater prominence on the negative reviews by virtue of the length of the conversation.
So, for this reason alone, it's a good idea to publicly show your appreciation to the majority of your customers who leave you a positive review. However, this cannot just be a tick box exercise whereby you formulate a standard response. You need to vary the
responses and use relevant and context specific keywords. Variety is key, repetition is absolutely inadvisable. You wouldn't repeat yourself on Twitter or Facebook so don't do it in any feedback replies. Doing so would make it seem like you just don't care. Which is the key to the whole feedback issue. To show folks that you care when things go wrong and acknowledge the compliments of your happy customers. It is truly the best and most balanced way to showcase the attitude and personality of your business in the online space.
Review and feedback tips for small businesses:
Keep all replies brief
Use keywords important to your business
Use the company name for positive reviews
Use the product name
Use the word 'review' instead of 'feedback'
Offer thanks for taking the time to share their thoughts
Invite to return soon for their continued business, if you can without being cheeky – E.g. "We look forward to your next order soon"
Moderating comments, feedback & reviews
A hot topic in the review world, but for most of our clients we do not moderate reviews. The reason we don't do this is we generate honest feedback from genuine customers. We do understand that if a review is negative it is hard to hear and you may take it personally, but please don't. The customer is giving you feedback on how they think you have performed as a business and although you may not agree with their viewpoint, their perception is their reality. We recommend monitoring negative themes and using it to help guide future business operations, thus turning it into a positive action. The only occasion where we recommend removing details from a review or feedback is if a customer leaves their personal details e.g. phone number, bank account details, address and mobile telephone numbers.
Feedback & Reviews Dos:
Do address the customer by name, using a standard salutation (Dear, Hi, Hello) and the customer's name, so that the email reply  will be polite and correctly addressed.
Do make your answers concise. This should be more like a social media reply and not writing a letter but ensure that the message is polite and can be considered as a suitable response.
Do make clear how you have solved the problem. Being able to say something like 'As we just discussed over the phone…' or similar is a powerful method of demonstrating how seriously you take the problem. Remember, you are also addressing potential customers. As they will see your response.
In the unfortunate circumstance of a customer being untruthful, make it clear to readers that there has been an investigation, do be sure of your response, and position it in a factual and considerate way – E.g. 'I have looked into the account and can see that…' and provide details of what you believe has occurred; it might be diplomatic to recognize that there is a difference of opinion. One example of a consumer complaining that his delivery was late, when there was evidence that there had been eight attempted deliveries. Each of those deliveries was tracked by the postal service. Our client made this clear in his response suggesting to readers that the company was going the extra mile to satisfy the customer's expectations.
Do feel able to respond with a question back to the customer. When reviews just consist of something bland like 'Not very good' alongside a negative rating, it is best to ask them to be more specific. Something like 'We are sorry that you feel we could do better. If you could give us some details of the problem, it would help us to improve.' This makes the company appear very caring. Rarely do people respond again, but it looks good and leaves the door open.
When replying to positive comments – do use your brand names / keywords as much as you can. This will help with visibility in search engine results.
Do make reference to any notes on the customer account that are relevant to the situation (this shows a unique and specific action relating to the customer's  case). For example, if there has been a separate resolution, then refer to it.
Feedback & Reviews Don'ts:
Don't write a standardized reply to multiple reviews or any form of copy and paste text. It conveys an image of not caring about your customers.
Don't focus on events that have not happened yet. Statements such as 'I will be calling you shortly' suggest that you might just be writing this to pacify the unhappy customer. It is a much stronger response to discuss what has happened. Eg. 'I'm so glad we were able to speak a few minutes ago and that you are now happy with the resolution that we have agreed upon.'
Don't ever say 'Your comments have been passed to the relevant department'. This sounds like you are simply deferring having to deal with the issue (even if it's genuine).
Don't write anything that a cynic might respond to by thinking 'Well that's easy to say, but I bet they won't'.
Don't worry about mentioning any vouchers or refunds that have been offered if the situation warrants it. There is no evidence to suggest that other customers will also complain simply to achieve a financial reward.
Don't appear overly formal, regardless of your brand. Think of how you would speak to the customer if they were standing in a shop, with other people listening in.
Don't exceed 200 characters unless you have to. Less is more. You don't want to be wordy and misunderstood further.
Don't get dragged into a mud slinging match or make accusations. It's always counterproductive! It makes you look bad.
We hope these Do's and Dont's for feedback and reviews is a helpful reference. If you think your company needs help or training in handling negative comments or reviews online, we run a masterclass where Beverly will deliver a tailored interactive session aimed at providing you and your staff with all of the tools you need to become experts in responding to feedback. For further information and pricing please contact info@beverlcornell.com.
.