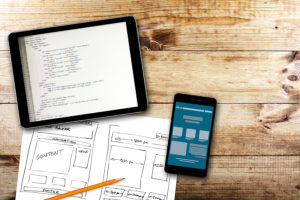 Creating a website can be a daunting task. There are several moving parts and elements to consider. Here are just a few areas you will want to make sure you think about before launching.
How do I choose my domain website name?
Choose a website name that people can remember well and choose wisely (and appropriately) whether you will use .com or .net something else.  The name should also reflect what you do. The more specific the better. 
Where should I host my website? 
Choose a reliable host and look at how much capacity you need. We have the ability to host for you. Just let us know. 
Which code language should the website be written in?
Choose the language you want to write the site in: HTML5, CSS3, PHP, Jquery, Javascript, etc. Different programers are comfortable with different languages. Be sure you have someone reliable to write clean code. Messy code can cause all sorts of issues down the line. 
Which website platform do I want to utilize?
WordPress, Drupal, Joomla etc.  Our team works mostly in WordPress sites. These types of platforms are content management systems. They are set up by an experienced coder and can be easily updated by people with word processing skills.
What is the purpose of my website?
Business, educational, corporate, e-commerce, and retail etc.
What layout and colors do I want?
Color affects the feel of your site. A clean and neat layout is always preferred. Don't forget about footer, too!
Do I need a site map?
A clear sitemap and flowchart is necessary for the best customer experience. How do you want customers or clients to navigate your site? Keep this in mind as you create your pages. 
What types of content will be on my website?
Your website has to provide good and informative content to the users. Target certain keywords to rank high in search engines. The type of content like language, picture, video, etc., all have influence on how fast or how slow the website will load.
Who is my audience?
You have to know who your audiences are, then you can build content that attract them. Your target market is key. Why they buy? When they buy?  And what problem you are trying to solve for them? These should all be very clear.
Should I have advertisements on my site?
Don't put too many advertisements on your website. If it is not necessary, don't put it here. You are there to educate and sell your product. Other advertisements only create noise.
Should I have pop up messages?
Prevent pop up messages. It is the most annoying type of advertising because of slow loading and sometimes you can't close it.
What kind of design should I use? 
A good website should be simple, yet professional. A clean modern design makes customers feel comfortable and encourages them to stay and look around.
What types of buttons should I use?
Buttons and navigation should be simple, yet professional. The navigation tabs and buttons should clearly allow a user to navigate.
What should I have in the background?
You can choose from a clean look, a colorful look, or you can consider a patterned background, too. The cleaner a site looks the easier it is for people to navigate. 
What types of images should I have on my website?
Choose images carefully so it will create a lasting impression for everyone so you want it to be good and memorable.
How should I set up the navigation? 
Users can easily find what they're looking for.
How do I make my website unique?
 There are so many good websites out there, you have to make your website stand out from the others. How is your company or organization different? Your value proposition should be very clear and should be different from your competitors. 
How do I keep my website fresh?
Keep your website up-to-date to keep visitors coming back. We personally believe a website is organic and should always be updated. This also helps with your Google rankings. New content is continually indexed.
How do I optimize my website for search engines?
A good website has to be search-engine friendly. Your website should be easy to find in the search engine. If not, no one will be able to view your website. In addition, titles, tags, photos etc should all be based on your keywords and target market.
Does my site work across all browsers?
A good website has to be viewed properly in all types of browsers,  Google Chrome, Mozilla, Firefox,  and Safari. Before you launch, make sure your site looks great on all of them. Different browsers can render your code differently and can look buggy if you are not careful.
Which screen resolution will I use?
Formerly, web design was made 980 pixel in width. Now a responsive web design is key for tablet and mobile viewing, a site can be designed up to 1230 pix in width. Most WordPress templates are mobile responsive now. 
Will social media be integrated into my website?
Integrate social media to your website to facilitate easy content sharing. This is especially true for a blog or newsletter section. 
Are reviews included into my website?
Share your reviews to create social proof. Having someone else talk about your product or service is way better than having you talk about. 
Which typography and font should I use?
Choose your typography wisely. A legible font is definitely important. There are standard sizes and colors you should use as well. You don't want people to squint their eyes when reading your text.
Will my website users need to register?
If visitors have to register to interact with your website, give them advantages when they do. If they give you something, you should give them something. The law of reciprocity is key here.
How will I track and analyze my website visitors?
You can monitor how your website is doing and how to monitor it. We love google analytics. They are easy to embed and easy to track. You can even create buyer funnels and goals. You can see what pages folks land on and what pages they leave on. All valuable information for customer buying habits. 
What items need to be in the footer?
Your footer may not be the main section of your site but with a well-designed footer, you can impress your visitors. Add items that people will search for like your contact info, latest blog posts, event calendars and newsletter signups.
How will my website provide security?
Visitors have to feel safe when they leave their information in your website. Especially when they have to register their contact details or credit card number. An ssl will be critical to keeping personal information safe and keeping your reputation safe. 
Will my website need to host video or multimedia content?
Use Video but don't have automatic play or sound. People get easily annoyed with that especially if they are surfing at work.
These are just a few of the items you should consider! Our team of professionals can help you with your website strategy and implementation. Let us take all the hard questions and put them to work for you and your business!