The holiday retail frenzy of 2019 is behind us! As the dust settles, e-commerce sales for the 2019 holiday shopping season were at 14.6% of total retail sales, per the Mastercard SpendingPulse™ report detailing holiday shopping from November 1 through December 24. Voice shopping is on the horizon and promises to make the online shopping experience even more stream-lined.
Voice Shopping Made Easy
With so many online sales and with future growth expected, making e-commerce even more customer-friendly can only be beneficial to small businesses with an online presence. When competing with large retailers who can offer free shipping and frequent discounts, streamlining the customer experience is key.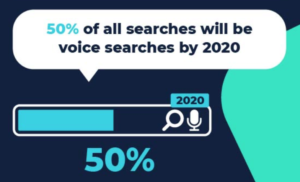 It is estimated that 50% of all searches will be voice searches by 2020. Voice Shopping is estimated to reach $40 Billion in U.S. by 2022. With new and ever-creasing numbers of voice shopping apps available for small business usage, the sooner your business reviews how to optimize your online store for voice search queries and orders, the better prepared you'll be to step into this new area for business growth. With Amazon, Google and Facebook supporting voice shopping with smart speakers, this new way of online shopping appears to be taking off in 2020.
If you're interested in seeing how voice shopping (voice schema) can support your marketing goals and increase your e-commerce presence, Beverly Cornell Consulting can help find the right software and plan for your business.
Source: 
https://www.businesswire.com/news/home/20191226005032/en/Mastercard-SpendingPulse-U.S.-Retail-Sales-Grew-3.4
https://www.invespcro.com/blog/voice-shopping/