The holidays are such a frantic, festive time of year! Every business, from the cupcake shop on the corner to the largest retailers in the country, is vying for the attention of that all important holidays shopper. And even those businesses that aren't based out of a brick-and-mortar shop still work to get in on the contagious and giving spirit!
What can you do to stand out from the crowd? How can you genuinely and organically catch your customer's eye and have a little yuletide fun in the process?
Open House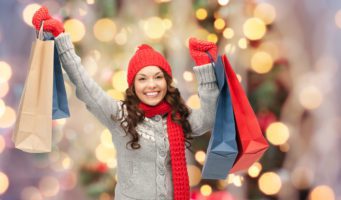 Who doesn't love a holiday party? And it's even better when you can help your customers ditch the drama of office politics and celebrate the friendly faces of your team and some great holiday deals! Put out the cocoa, candy canes and gingerbread cookies, turn up the Christmas music and offer some holiday-themed incentives – you'll make a memorable experience for your shoppers. Who knows, you can even plan to have Jack Frost or a certain Mr. Claus make an appearance!
Giving Back
As a business, your focus is centered on customer satisfaction relative to your products and services and rightfully so.  But you also should remember the benefit of fulfilling that intangible role of making them feel good about giving you their business and being part of something bigger than themselves. If you have a relationship with a favorite charity, find a way for your business to support their efforts. If there is a synergy with your business, all the better. If you are a shoe store, investigate ways to sponsor local marathons or have an in-store Giving Tree with tags for shoes to be provided to people at a local shelter. If you are a bakery, align with a local warming shelter to donate bread and treats. If you are a pet store, support a local animal shelter. Find what is close to your heart and get behind it. Not only will customers feel good about supporting you but you'll feel good about giving back to the community that supports you, too.
Make Your Own Social Media Holiday Classics
The holidays are about having fun and spreading cheer!  So it's the perfect time to show your customers your personal side.
You have the tools now to make your very own holiday sing-a-long videos and Santa-cams so have fun with it! Have your staff get in on the holiday happenings – whip out the elf hats and have employees share their favorite holiday tradition or sing "Winter Wonderland" on the first snowy day.
Play up your holiday of choice or stick with a winter theme and have it carry through all of your email and newsletter communications. No matter your business, you can spread a little cheer with your communications.
Have fun on Facebook by asking fans what their favorite holiday traditions are or what song gets them in the spirit. And don't forget to take some festive photos ready for Instagram postings!
Tweak your logo to add some holiday flair? Santa hats, reindeer noses, snowflakes and more!
Themed Incentives and Sales Holiday Cash
Settled on a winter theme? Well, get those Snow Bucks ready to reward customers who are loyal to your brand, your store and your message. Pick special dates for them to redeem the certificates and provide them with a fun experience for coming back in with holiday-themed specials on favorite products.
There's no better time to be a "special snowflake" and stand out from the crowd than during this festive season. So make the most of that little something special in the air this time of year and make your business a star!