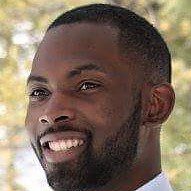 We want to give a warm welcome Dominque Harris!
Dom is our new Online Ads Manager that assists with Facebook/Instagram Ads, Google AdWords, and Analytics.
He's a married and the father of five rescued fur-children (dogs). With a background in sales, Dom fell into the world of digital marketing in 2017, starting with Google AdWords (he is certified).  He then began looking at the Facebook Advertising platform and has dedicated countless hours toward understanding its ever-evolving algorithm.
Dominque loves helping small businesses achieve a level success they may not have even considered possible for themselves. Using pre-existing and newly obtained data, he creates an automated buying experience with Facebook Ads that allows a business to have a continuous influx of new traffic while nurturing existing customers and keeping a business's return on investment on the rise. Ads are an ever-changing tool and we depend on Dominque to stay on top of it for us.
He also classifies himself as a nerd. But at 6 feet 6 inches tall, he can't help but be an avid basketball player too! Dom grew up in Texas but is now living in Mobile, Alabama. Our team skype meetings stretch the East Coast now, from Michigan to North Carolina and now Alabama!
Please help us welcome him to the BC team!