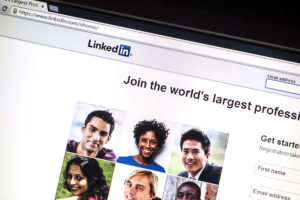 First impressions are powerful.  Before meeting a prospective client or business contact, you put in the work. You do your research and do your all to present your best self so you feel prepared and pulled together.  You follow those tried and tried "rules" of making a great first impression – firm handshake, great posture, solid eye contact, a welcoming smile. From what you're wearing to what you're sharing about yourself, those first moments form a long-standing snapshot of who you are, what you represent and what you are capable of accomplishing.
Virtual Impressions
But what rules apply when your first impression is virtual?  In our current business environment, many of our initial meetings don't occur in person.  Take LinkedIn, that ever powerful social business connector that allows us to network across the miles.  You may think you're off the hook since you can put your profile together in your pajamas but the same holds true in person or online – you only have one chance to make an impactful first impression.  What will yours be?
Profile
A Picture's Worth – Some things go without saying but I'll say it anyway.  Someone reaching out to a new contact wants to know who they are talking to and what better way than attaching a face to a name? A strong photo represents you in your best light – capable and confident.  In an eye-mapping study conducted by professional job website, The Ladders, 19% of the time recruiters spend on your profile is spent looking at your picture.  So, whether the intended audience is a recruiter or a potential business contact, we can assume that appearance matters.  Polished, confident, inviting… pull those off and you're ahead of the game.
Details – Be thorough. Add your Summary, Skills, Expertise, Education, Location. Use every heading to drive home who you are and what your strengths are.  Be precise and SELL YOURSELF!
Key Words – Include Key Words in your profile. Then do the work and check out Google's Keyword Tool to see what will make your Profile pop. Add your Key Words to your Title, Summary, Skills, Expertise and other areas beyond that.  Once you've completed it, test it yourself.  Enter the Key Words you've chosen and see what Google suggests to see if you're being found on LinkedIn.
Keep It Professional – Updates are great when they speak to your audience, your business, your field.  Save the updates on your vacation and birthday greetings for the more informal social networks like Facebook.
Connections
Work It – Don't be shy, get out there and connect. Expand your network based on shared work experiences and talents and you'll create a valuable group of like-minded professionals.
Join a Group – LinkedIn Groups connect members in their own professional industry, broadening your reach and building a network to address specific challenges and benefits in the field. Groups are great resources for contacts and a great place to exchange knowledge with other professionals. Per LinkedIn, people who participate in conversations on Groups are five times more likely to get profile views from people outside their network.
Monitor
Keep an eye on what's working – LinkedIn allows you to see who views your profile as well as when it's viewed. Base updates on ideal viewing times and target areas of content for viewers.
Quality over Quantity – Consider who you invite into your network. A broad network of professional contacts is great as long as they are all relevant and valued connections.  When you are interested in reaching out to a new contact via a LinkedIn Connect invite, make sure to share what your connections and commonalities are so that you are leveraging a truly mutual background connection and making a valuable and beneficial contact.
Make It your own – Don't just publish and run, keep your profile current and timely. Post updates on relevant developments in your field that are of interest to you and others in your network. And remember your voice. You can shine through by personalizing your profile and have it reflect your tone and your personality.
So put your best digital footprint forward and create a solid, inviting and professional LinkedIn profile. Now get to work – in more ways than one!
Sources:
https://blog.linkedin.com/2014/10/06/new-ways-to-engage-with-whos-viewed-your-linkedin-profile
https://blog.linkedin.com/2016/08/03/5-steps-to-improve-your-linkedin-profile-in-minutes-
https://www.linkedin.com/pulse/20140327151938-19713953-7-linkedin-profile-tips-and-tricks-in-2014-that-make-a-difference