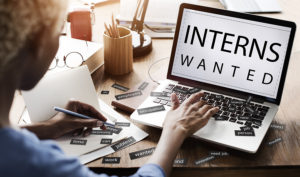 Help wanted at growing marketing agency.
Position:
Marketing intern with an emphasis on writing and social media for small business, focusing on client-specific blogs, newsletters, social media postings and analytics.
Hours
10 – 20 hours weekly, hours can be completed at discretion as long as ALL deadlines are met.
Estimate one-hour for remote weekly meeting for training/status/questions.
Location
Position is remote. Must be able to use Skype and Google Hangout.
Pay
Unpaid for credit. Negotiable if no credit position.
Required Skills
Strong writing skills, talent for turning a phrase and finding that nugget of information to hook a reader.
Creative mind matched to a deadline-focused task master.
Well-versed in social media: Facebook, Twitter, Yelp!, Instagram, Pinterest
Independent, self-disciplined, conscientious and detail-oriented individual a must.
Familiarity with WordPress, MailChimp, PicMonkey required.
Intern will gain understanding of how to meet the needs of a small business client, in regard specifically to their social media presence, and have a solid portfolio of writing work for future employment.
Interested? Please submit resumes and any relevant writing samples to info@bcassociatesmarketing.com.