With the holidays coming and going throughout the year, Christmas isn't the only time to let your customers know about your special hours. Here are some ways to keep your customers updated.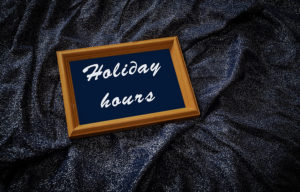 Google My Business
Have you put your holiday hours into Google My Business? Studies show Google is one of the most checked places for business hours, holiday ones included! It's easy to set up your normal and holiday hours on Google My Business, so don't forget this essential step.
Facebook
Of course, Facebook is on this list! Our biggest and best tool can't be skipped with this important information. You can pin a post with your holiday hours at the top of your business page to ensure they're seen. I'd also recommend posting multiple times within 2 weeks of your holiday hours timeframe to ensure your customers get the message. If you'll be closed for a multi-day period, make sure to post daily within those closed days.
Instagram
Whew, you didn't think we'd skip Instagram, did you? Nope! An easy way to make sure your hours are known is by posting a few times, similar to what we'd do for Facebook. Share your hours in your bio temporarily, ensuring it's seen by all who visit your profile!
Your Website
Make sure you have your holiday hours displayed on your website! This crucial piece could be a banner, a simple blog post, a blurb where your regular hours are located, and more.
The Bottom Line
Making sure your hours are correct is essential to keeping customers happy. Shoppers reported they would stop using a local business if they found incorrect information in online directories. We want to make sure we take the necessary steps to avoid this! Reach out to us at BC & Associates Marketing and we'll be happy to help you sort out all things marketing.