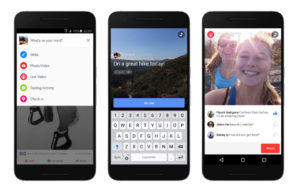 I wrote this comprehensive and Complete Facebook Live How To Guide to help businesses understand what Facebook Live is, why you should use Facebook Live, the differences in video streaming apps and a step by step how to use Facebook Live how to for before, during and post recording.
This new technology doesn't have to be scary! Let us help you become a Facebook Live Pro!
What Is Facebook Live?
Facebook Live videos are real-time video streaming posts on the Facebook feed. Live videos from people and brands you follow appear in your news feed. When you're watching a live video or a video that was live, you can tap or click Subscribe to get notified the next time that Facebook account starts a live broadcast.
Why Should Businesses Use Facebook Live?
Businesses have been successfully using video on Facebook for some time now. In fact,more brands are now uploading video directly to Facebook rather than sharing YouTube videos.
Ability to broadcast to the largest audience in the world (1.5 billion profiles and counting) with just the camera in you carry in your pocket.
A fun, powerful way to connect with your followers and create new ones.
The rise in popularity of live streaming has caused businesses to find new and exciting ways to use video to connect in real-time with their targeted audiences on Facebook. Some of the ways businesses will be able to use Facebook Live will be:
Behind the scenes footage (candid employee interviews, office tours, etc.)

Live events (conferences, concerts, etc.)

Product demonstrations and support

Live question & answer sessions

Company announcements
Facebook Live is one of the best ways to interact with viewers in real time. Field questions, hear what's on their mind and check out their reactions to gauge how your video broadcast is going. Now more then ever, you can reach new audiences in new ways. People love watching video, which is why Facebook built a dedicated place to watch this type of engaging content. While your current fans will be able to keep up with you on your page and in the news feed, the Facebook Live experience will be entirely new and engaging for them.
What Is Different About Live vs. Other Video Streaming Services?
While the basics are the same, there are some key differences that set Facebook Live Video apart from Periscope and Meerkat. These apps have done mobile live streaming before, but Facebook's massive global reach will bring the technology to a bigger audience than ever.
First, Facebook Live offers the ability to broadcast only to friends and family. While Periscope does give you the option of creating private broadcasts – and then lets you select which users are allowed to view them – Facebook's integration with pre-established audience lists makes the process much easier to implement and select.
Another key difference is that Facebook Live videos remain on your timeline indefinitely…just as if they were regular video posts. Persicope broadcasts, on the other hand, only remain on the Periscope servers for 24 hours. Meerkat videos disappear immediately following the live broadcast like Snapchat photos.
All three can be used independently of any specific social network, Facebook Live Videos can also be saved on your camera roll or transcribed to use on other social media platforms.   
Let's get to the fun part. How to actually create a Facebook Live video!
You will want to think about all aspects of the recording from the planning, recording and post recording steps. Here is a breakdown of items you should consider at each step.
Before The Facebook Live Broadcast:
Determine your goal for the broadcast? Is it Branding, engagement, traffic to store/website, to sell something? Develop your call to action based around that clear goal?

Choose your content! A few sample ideas are: 

Hot Topics

Q & A

Breaking news

Interview

Performance

Behind the scenes

Demo a product

Give notice to your fans that you're going Live. Be sure to share with people in advance posts. You will want to get folks excited! 

Make sure your phone/tablet battery is charged or keep it plugged in. Video drains battery very quickly!

Turn phone/tablet on airplane mode. You don't want calls and texts to interrupt the recording.

Connect to a solid/strong wifi connection (if possible) – you don't want your data plan to be used or to lose signal mid-recording!

Open camera to check lighting and positioning – make sure the area looks professional or features what you are talking about professionally. First impressions can make or break you. 

Use a tripod or selfie stick for stability – don't make viewers dizzy and sick to their stomachs! 

Write a catchy and snazzy headline description of your content to encourage viewers to stop and watch your Facebook Live. What is in it for your fans to watch your video. Time is valuable. 
During The Facebook Live Broadcast/Video:
Introduce yourself and establish your credibility immediately – grab your audience's attention!  You have about three seconds. NOT Long. Share why people should listen.

Ask viewers to click on the subscribe/follow to receive "Live" notifications every time you are "live."

Quickly get to the meat of the video where you share with viewers what is in it for them asap!

Remember to focus on the value for the customer – provide great content which educates and entertains.  Share real stories, jokes etc. Don't be afraid to be you!  A little personality goes a long way. 

Interact with viewers – as they show up you will see their names. (use their name when possible (people love to be seen) – Welcome X, Hi X etc) It's called "Social" media – please be engaging.

Answer questions – state the question and then answer it – not everyone is paying attention to the comments. Be sure to validate folks with phrases like "Great question (use fan's name whenever possible – people love to hear their name)."

Broadcast 15-30 minutes to reach more people. You have up to 90 minutes. Give them a taste – but leave them wanting more! Facebook provides a ton of reach but only while you are Live!!!!

Ask viewers again to click on the subscribe/follow to receive "Live" notifications every time you are "live."

Use your call to action during video presentation and remind them at the end. Make sure it is something that creates value and gives you more info on them. Ie – sign up for our newsletter to get more information on x topic, stop by the store this week and mention this video to get x% off, etc.
How To Start a Live Broadcast:
Log into the Facebook iOS app or Facebook Android app.
Write a post: Tap at the top of your Timeline, News Feed or Page.
Tap Facebook Live button.
You may need to authorize your camera and microphone the first time you record.
Choose who you want to see Live. 1. Public or 2. Me (if testing) 3. Specific Group you can even block certain people if you want.
Write a catchy description – what you will be talking about for your broadcast.
Make sure the orientation of your phone/camera is correct – self facing or front facing. You can film vertical or horizontal orientation. Live will make it square and fill area either way.
Tap "Go Live" to begin your broadcast. You will see a count down, 3,2,1 live – be ready smiling and start asap, remember you need to grab attention quickly!

Use a closing line to signal the end of the broadcast.

Be sure to finish with something like "Thanks for watching!" or "I'll be going live again soon."
When you want to end your broadcast, tap Finish. When you hear a ping, the Facebook Live broadcast is over.
After The Facebook Live Broadcast:
Make sure you save to your camera roll (connect to dropbox if possible as this will eat up space on your phone) and upload higher quality version. 

Make sure your video uploads to Facebook and posts to your fan page immediately after filming. Occasionally this may glitch due to wifi connections or issues with Facebook.

Make sure to monitor the video comments once published etc – to answer questions and continue to engage with your audience. 

Share post/video to other groups on FB. This will help builds on your video insights. But be careful of spamming. Follow group rules and only if the content applies should you share. 

Repurpose your video.  Save to your camera roll and use on the social media sites. 
Consistency is key!
Do it again… and  again. The more you do it the better you will become

Create a Live editorial calendar to keep you accountable and to help with planning.

People will start to expect your broadcasts and look forward to your videos. 
If you need help with a Facebook Live content planning calendar, ideas for your videos or ways to use them after you record the broadcasts, give us a call at 971-Beverly!