Assisting the businesses where we shop with through creating positive content creation is should be as automatic as good manners.   However, too many people are anxious to post scathing reviews of their experience. They forget that both sides of the coin are necessary to provide a fair picture.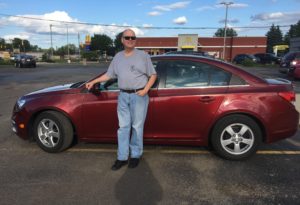 One recent example: I just purchased a new car from Great Lakes Auto Superstore. It is a Burgundy 2016 Chevrolet Cruse with less than 33,000 s on it. I paid what I considered to be a fair price for the car. What made the difference for my wife Mary Ellen and I was the high level of personal service we received.  Our salesperson, Tom Sellick (no, not that one), and the dealership owners, Dawn and Dave Sloat, truly made this an outstanding car buying experience for us.  There were several questions that we had along the purchase process. The team then addressed every one of our concerns and each of them made sure no detail was too small or insignificant towards insuring our ultimate satisfaction.
I was already prepared to write my experiences on Google My Business. I did see a prompt at the cashier's desk to do so. I quickly composed my thoughts, posted them with a five-star review and then showed the result to Tom. I was delightfully surprised to learn that as a reward for this, I had a choice of a free car wash with a full tank of gas or a free oil change. (I chose the gas.)  When I checked my review later, I was happy to see that I wasn't the only one that had such a similar experience. In addition to Google, both Facebook and Car Gurus had reviews for Great Lakes Auto Superstores averaging above four out of five stars.
Content creation as customers helps the business where we shop to quickly develop a 'know, like and trust' rapport for use with future customers.