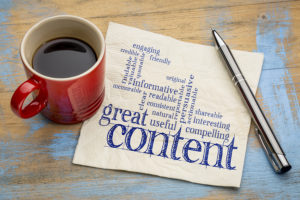 Advertising can be very expensive and many of our small business clients, just don't have that kind of budget set aside for marketing. We help our clients reap a strong return on investment with planning and executing a sustained content marketing program.
What is Content Marketing?
Content marketing is for companies aiming to build awareness, brand affinity, and sales via online marketing at a much lower cost than traditional advertising and media campaigns. A successful content marketing program delivers content potential customers want via a publishing model.
When & Where To Publish Content?
Your content marketing schedule has no end. You continuously publish helpful content with the goal of being the go-to-expert source when your target market and customers seek solutions. We offer a hub-and-spoke model. Your website is your hub. Search, social, and all channels should funnel and direct prospects to it to buy.
Why & How To Publish Content?
Brands can't rely on "spray and pray" media buying to a sustain a positive ROI. With buyers in control, your approach must change from selling to helping. By sharing information that educates and creates trust you are helping people down your sales funnel. Successful content marketing programs are as unique as the small business delivering them.
What Types of Content to Publish?
Industry News: Short servings of news, trends and examples/case studies via e-newsletters, blogs, and social media.
Social Video: Should have a clear message, be entertaining and have artistic/graphic appeal.
Blogs: Write about the stuff that matters in your industry. Use strong examples, be consistent and add your expertise.
White Papers/Case Studies/Ebooks: Share detailed information within a clear and concise visual presentation. Can be printed out and shared.
Infographics: Creates a story visually, has hard hitting stats, quality data and is striking to look at. Very shareable.
User Generated Content: User experience is shared in a creative branding opportunity and is followed with hashtags.
There is no one-size fits all model or team uses. We must perpetually assess and refine content marketing efforts to optimize our client's returns. Delivering pitch-perfect content to a receptive audience in a way that it easy to swallow is the key.