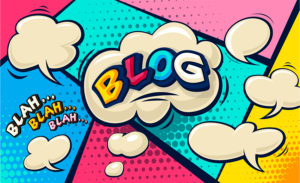 Did you know blogging has been around…TWENTY FIVE YEARS!  A whole quarter of a century! And there are still many benefits to blogging today!
History of the Blog
That's how long the concept of a blog, if not the name, has been a part of our digital world.  Justin Hall was a student at Swarthmore College when he created a personal homepage called Links.net, which is generally acknowledged as the first blog. The term weblog was coined in 1997 by Jorn Barger, who created his weblog "Robot Wisdom," an effort in logging the web as he browsed. In 1999, programmer Peter Merholz shortened the term to the more familiar blog, which gained official recognition as word of the year by Merriam-Webster in 2004.
Why Blog?
The landscape of the digital world changes fast. Although blogs may have morphed over the years from a post a week on a certain day that dedicated niche followers checked in to read, through the years they have maintained their value in providing a way to reach your target audience and share information with them about  issues from a subject matter expert that relate to your brand.  They are also a great tool to build a relationship with a new audience by sharing your knowledge and unique viewpoint on a subject that provides them with a new perspective and new information while strengthening your relationship with your existing base by continuing to provide value on topics they love.
How To Blog?
Although the platforms and technology may have advanced, the goal of sharing information and viewpoint to build trust remains the same. The benefits of blogging hold strong – companies that blog receive 97% more links to their website.
Share – Blogs are the perfect seed of information to encapsulate your brand's message. Once planted, it can grow an audience for you. Share your blog on your social media channels by posting on Facebook, linking to it from LinkedIn, and posting it on GoogleMyBusiness. Publish on websites like Reddit to reach potential new interested readers and create interest for your brand. Newsletters are another great vehicle for sharing blogs.
In-Blog Hype

Buy Now Buttons – Use your blog to link back to your online store and promote items with Buy Now buttons linked to products or services detailed in your blog.
Images – Use eye-catching, unique images that speak to your brand and grab the reader in for a closer look.
Videos – Videos offer an easy way to capture attention and encapsulate your message for your audience and potentially drive readers to your website.

SEO Intelligence – Search Engine Optimization is bumped by quality blogging. By using SEO tactics to gain traction and ranking in search engines, you drive more customers to your site.
Content Is Key – "Quality of content" is rated the #1 most important success factor among all bloggers.1
Create Your Brand Identity – Blogging allows you to continually reinforce the messaging and identity you want for your brand. Being a knowledgable voice in your industry married with a consistent design can earn recognition as a credible source in your field.
Benefits of Blogging
Blogging may have been around from the beginning stages of the internet but it continues to be a solid and effective tool for marketing your brand's message to your audience. The benefits of blogging are holding strong! Or ask us how we can help you create a blog content calendar and how to share it to maximize your results.
Resources:
1 https://growthbadger.com/blog-statistics/?gclid=CjwKCAjw67XpBRBqEiwA5RCoccuyzj_ovizITgrGgs9qP4AWhuPJ8m2fjumln5ui1uHaO0WO1DsphhoC8dEQAvD_BwE
2 https://blogging.com/history/